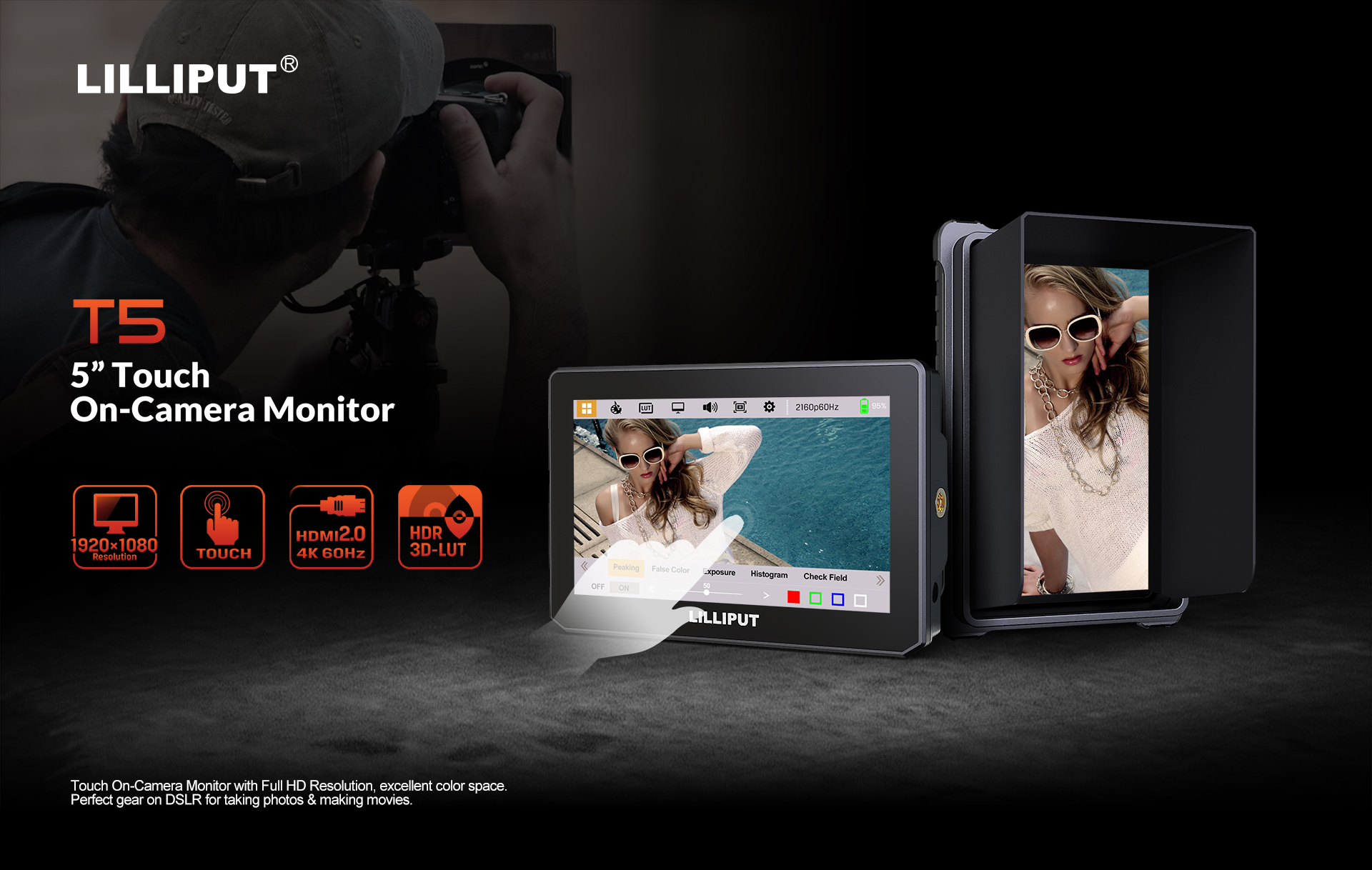 Introduction

T5 is a portable camera-top monitor specifically for micro-film production and DSLR camera fans, which features 5″ 1920×1080 FullHD native resolution screen with fine picture quality and good color reduction.The HDMI 2.0 supports 4096×2160 60p/50p/30p/25p and 3840×2160 60p /50p/30p/25p signal input. For the advanced camera auxiliary functions, such like peaking filter, false color and others, all are under professional equipment testing and correction, parameters accurate.So the touch monitor is compatible with the best output video formats of DSLR on the market.
Features
Support HDMI 2.0 4K 60 HZ input

Support Touch Function

Peaking (Red/Green/Blue/White)

False Color( Off/Default/Spectrum/ARRI/RED)

Check Field( Off/Red/Green/Blue/Mono)

LUT : Camera LUT/ Def LUT/ User LUT

Scan: Aspect/Zoom/Pixel to Pixel

Aspect(16:9/1.85:1/2.35:1/4:3/3:2/1.33X/1.5X/2X/2XMAG)

H/V Delay Support (Off/H/V/ H/V)

Image Flip Support(Off/H/V/ H/V)

 HDR Support(Off/ST2084 300/ST 2084 1000/ST 2084 10000/HLG)

Audio Out Support(CH1&CH2/CH3&CH4/CH5&CH6/CH7&CH8)

Aspect Mark(Off/16:9/1.85:1/2.35:1/4:3/3:2/Grid)

Safety Mark(Off/95%/93%/90%/88%/85%/80%)

Mark Color: Black/Red/Green/Blue/White

Marker Mat.( 0ff/1/2/3/4/5/6/7)

HDMI EDID:4K/2K

Color Bar support range: Off/100%/75%

User-definable button FN function can be set, default eaking

Color Temperature: 6500K, 7500K, 9300K, User.
Clicking the link to get more detail about T5:
https://www.lilliput.com/t5-_5-inch-touch-on-camera-monitor-product/
---
Post time: Oct-26-2020